Tours catalouge / Vladimir weekend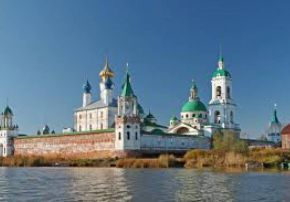 "Vladimir weekend"
Russia, Golden Ring
Vladimir - Bogolyubov - Suzdal – Kideksha – Gus-Crystal. Complex tour for individual travelers.
duration -
3 days / 2 nights
DAY 1
07.45  Meeting near the appointed underground station.
08.00 Transfer to Vladimir. Information on the way.
Lunch in Vladimir.
Overview excursion around architecture objects of 12 century:  Architecture of the Golden Gate, Assumption and St. Dimitry Cathedrals, "Old Vladimir"exhibition.
Transfer to Bogolubovo. Overview tour to the Monastery of the Bogolyubov: the Church of the Intercession on the Nerl (exterior) - due to weather conditions, Bogolyubsky Female Monastery.
Accommodation at the hotel "Golden Ring", Vladimir.
Dinner accompanied with folklore interactive program.
DAY 2
08.00 Breakfast at hotel's restaurant
Transfer to Goose-Crystal. Excursion to the museum in St. George's Crystal Cathedral, the exhibition room. A chance to buy  some crystal products in  branded stores.
Lunch at a city restaurant.
Free time.
20.30  Dinner.
DAY 3
08.00 Breakfast at hotel's restaurant.
Transfer to Kideksha. Excursion tour  to the Temple of "Boris and Gleb" - the first white stone church in Russia.
Sightseeing tour in Suzdal ,enter  the Kremlin and the Cross House, visit to the Saviour Evfimiev Monastery (Transfiguration Cathedral), Architecture of Pokrovsky Monastery, visit the Museum of Wooden Architecture.
Lunch.
Free time.
Departure to Moscow.
Around 22.00 arriving in Moscow.
Notes
Total price includes: accommodation, meals, transportation and guide service according to the program.
Documents:  tour voucher, passport, for children - birth certificate.
P.S.:  Company reserves the right to change the program without changing the volume of services provided. If you miss or fail to appear tourist company reserves the right to change the consistence of the program without changing the volume of services provided. The duration of its individual elements may change before departure and during the tour. Elements of the program, depending on climatic conditions and actions beyond the control of the organizer of services and organizations (road, the local administration, etc.) may be excluded from the program, based on the actual situation on the route.
If you miss or fail to appear at appointed time, the company is not responsible for the implementation of the full excursion program. The cost of that excursion day is not refundable.
Check-in time: according to the tour.