Russia, Archangelsk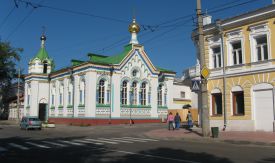 The Arkhangelsk Area is famous for its rich history, great people and huge achievements. Arkhangelsk (or in English Archangel) is a city and the administrative capital of Archangelsk Province (in Russian Oblast), Russia. It is situated on both banks of the Dvina River where it flows into the White Sea. So it is a big port which connect city to the other countries. Also it can be called Pomor Land. Arkhangelsk is also famous for its unique crafts such as folk toy of clay, decorating and painting on wood, borok and rakulka painting, mezen painting, birch bark"tuyes". The city holds a leading position in Russia in the number of monuments of cultural and historical heritage.

Main Attractions

The Arkhangelsk State Museum of Wooden Architecture and Folk Arts «Malye Korely»

The open-air Museum is situated 25 km from Arkhangelsk on a picturesque bank of the Northern Dvina River. The Museum exposition takes the area of 140 hectares and represents more than 200 monuments of wooden architecture of the 17th - 20th centuries. Traditionally the Museum arranges folklore celebrations, bell music concerts and artisans' fairs

Solvychegodsk History and Arts Museum

The core of the Museum collection is the Old Russian painting of the 16th - 17th centuries – icons of «Stroganov's School», collections of gimped embroidery, decorative and applied arts of the 17th - 18th centuries. The Museum Complex includes some monuments of federal importance, such as the Blagoveschensky ('Annunciation') Cathedral (1584), the family church of the Stroganovs; Spasoobydennaya Church (the 19th century), the family burial place of the Stroganovs; as well as the Stalin Museum and the Folk Crafts School.

The Solovetsky Spaso-Preobrazhensky (Transfiguration) Stauropigial Monastery

The Spaso-Preobrazhensky (Transfiguration) Monastery and its numerous hermitages are situated on the islands of the Solovetsky Archipelago in the White Sea.

Archipelago Solovetsky

The uniqueness of nature of the Solovetsky Islands depends greatly on their geographical position, but it also has own specific microclimate: winter is mild, spring is colder than autumn, summer is fresh.