Russia, Kaluga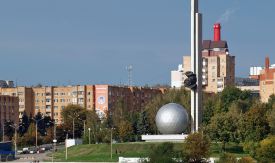 Kaluga is a historical city. It is not so old as all the others but has a lot of historical building and monuments.
Attractions
Among the main interesting places of Kaluga city are:
The Korobov's Chambers (one of the rare examples of "chamber architecture", the end of 17th century);
Merchant Zolotaryov's estate (the end of 18th - early 19th centuries);
Stone Bridge across Berezuyevsky ravine (one of the most interesting architectural monuments in Kaluga), one of the largest viaducts in Russia;
Kaluga Gostiny Dvor was built according to draft of  famous architect Pyotr Romanovich Nikitin, the ensemble was begun in 1784;
K.E.Tsiolkovsky Park;
Obelisk built on the spot of Gogol's house;
Obelisk at K.E.Tsiolkovsky's grave;
K.E.Tsiolkovsky statue (the  Park of Pease);
Victory square;
A.V.Lunacharsky Drama Theater (Theater square).