About us
How do we operate?
Travel company "MULTITOUR" LLC is a tour-operator company for Russia, Ukraine, Belorussia, Abkhazia, Baltics countries, Armenia and successfully works on the russian market from 1999 year. For that period "MULTITOUR" reached a high position on the market of domestic, internal and incoming tours. During last 5 years our Company is in the list of 5 top companies that work on internal travel market. Also "MULTITOUR" is a member of the Russian Union of Tourism Industry (RST). Our number in the register of tour operators - МТ3 №007839.
The main focus of the company`s business - is rest and curing on resorts in Russia, Ukraine and Belarus, Abkhazia and in the Baltics countries.
"MULTITOUR" offers a full range of tourist services such as: accommodation, air and train tickets, transport service, insurance, excursions and many others services.
Our company offers more than 800 places for accommodation for tourists, more than 200 exciting excursions and exciting tours. We were the first company who set health insurance for all tourists traveling on vacation in Ukraine, with the cost of tours is not affected. For tourists departing on vacations to Russia or Belarus, we offer insurance on their own.
Since 2003, we actively creating and developing coach tours and for nowadays we are the one of the largest travel operator in that business sector of Russia. Our buses are most prepared for long trips – it is equipped with video system to watch movies, air conditioning, during the ride travelers has a possibility to order hot drinks.  Also there is our representative on each flight what we are operating for our clients.
We are regularly organizing familiarization tours for the associates of travel agencies travel agencies to familiarize them with all places of accommodation, what we are offering. Also, we are organizing regular seminars and provide our partners with catalogs with detailed information about proposals of our company.
Every year "MULTITOUR" takes a part in the Tourism Exhibitions in Moscow and travel exhibitions in other regions of Russia and in Kiev.
We are constantly organizing actions with cash prizes and gifts to managers of travel agencies, compiled flexible and attractive bonus programs.
At the end of the travel season, we are inviting our friends and partners to take a part in the "relax-tour."  We have organized already a trip to Seliger Lake, in the country side of Moscow, Yaroslavl, Gelendzhik, and Anapa.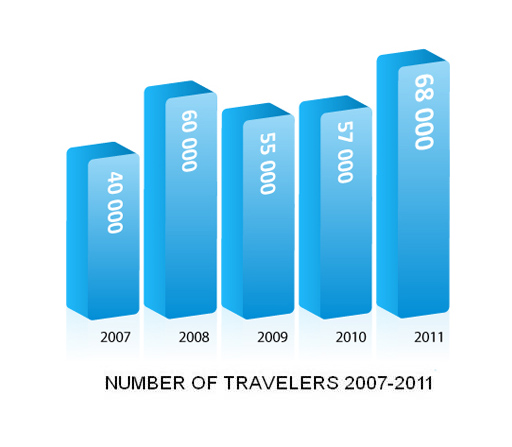 Who are we cooperating?
More than 5000 agencies cooperate with us, a lot of them work with MULTITOUR since the moment of the company's creation.
The number of our clients increases every year: in 2006 we have organized rest for 30 000 clients, but in 2010 already for more than 57 thousand guests.

Head-office of our company located in Moscow but we have a wide network of branch offices – in Nizhniy Novgorod, Sochi, Saint-Petersburg, Ekaterinburg, Velikiy Novgorod, Kiev and in Simferopol (Crimea). Our associates will help anytime with accommodation, guiding tours, transportation and also will help to resolve all problems what could take a place during rest.
Our advantages:
Our company is constantly and actively develops - we are searching and creating new travel directions, optimizing business cooperation processes.
We created department of cooperation with travel agencies, which assists travel agencies and providing necessary information.
Each year we collect feedbacks from travel agents companies regarding cooperation with our company, listening attentively advices and suggestions then taking into consideration.