Tours catalouge / The cradle of Russian history - two cities with thousand-year history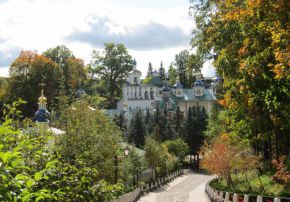 "The cradle of Russian history - two cities with thousand-year history"
Russia, Novgorod The Great - Pskov
Route: Novgorod the Great – Pskov
duration -
2 days / 1 nights
DAY 1
Meet the guide at the railways station.

Transfer to the hotel.
City tour around the most famous attractions: St. George Monastery (XII) – The main church of the monastery of St. George's Cathedral (1119), The Museum of Wooden Architecture – an architectural and natural reserve, which contains different types of survived wooden things - huts, chapels, churches, barns, mills collected from estates Novgorod boyars (visit). Yaroslav's Court, an ancient bargain – a set of valuable monuments of the twelfth and seventeenth centuries. At present it is one of the most beautiful places in Novgorod. St. Nicholas Cathedral (1113-1136), George's Church in the Market Place (1356), the Church Myrrhbearers (1510), Church of St. John the Baptist in the flasks (1127), Paraskeva Church in the Market Place.

Excursion to Kremlin. Hagia Sophia Wisdom of God – one of the oldest church in Russia. Today at the cathedral you can see the unique frescoes (XI-XII cc.), icons (XV-XVII centuries). It contains the Russian national relic – the miraculous icon of "Our Lady of the Sign." Monument "1000 years of Russia" is Encyclopedia of Russian History. You will visit the exhibition "Golden Pantry Novgorod" in the building of offices of the museum – a treasure of jewelry and crafts.

Free time.
DAY 2
Breakfast.
Transfer to Pskov.
Kremlin is the center of Pskov and its political, administrative center of Pskov Republic. In this city you can see monuments of religious, civil and military architecture, Nevsky monument and monuments for soldiers, which were killed in Afghanistan and Chechnya.
Pskov feudal architecture has two fortresses that guarded the approaches to Pskov. One of them is Izborsk (first mentioned in chronicles in 862) and the other one is Pechora Fortress (XV c.) – an active monastery.
Departure from Pskov to Moscow by train.
The tour INCLUDES
1)  Guide escort;
2) Meals as mentioned in the program;
3) Accommodation in 3***, 4*** hotels (if an accommodation is unavailable we will provide you with a similar hotel or better one);
4) Transfers;
5) Entrance tickets to the sites listed in the program.
Notes
Company reserves the right to change the program without changing the volume of services provided. If you miss or fail to appear, tourist company reserves the right to change the sequence of program execution without changing the volume of services provided. The duration of its individual elements may change before departure and during the execution of the tour. Elements of the program, depending on climate conditions and actions beyond the control of the organizer and organizations (road, the local administration, etc.) may be excluded from the program, based on the actual situations on the route.
Tour program can be adjusted according to the wishes of the group.