Tours catalouge / New tours / SURPRISE ME KAZAN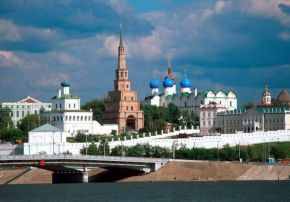 "SURPRISE ME KAZAN"
Russia, Kazan
Wonderful region exists in the heart of Russia, on the left bank of the Volga River. It is full of green and beautiful scenery. Wide rivers, clear lakes and modern buildings led to the eastern metropolis – the third capital of Russia – Kazan. Each region of this vast country – as a separate country –  is unique and a little bit similar to each other. But! If you love history and you are ready to unexpected discoveries, you will really enjoy this tour.
duration -
2 day/ 1 night
DAY 1
Breakfast.
City tour "Old Kazan".Excursion to museum "1000 Centure of Kazan".Interactive program of "Tugan Avylym" (Native- village only in the summer). Lunch.Check in to the hotel.Walking excursion to the ciry center.Excursion to the territory of museum-resort Kazan's KremlinFree time. Optional: theater, circus etc.
DAY 2
Breakfast.
City tour by bus with the entrance to Raifas Men's Monastery. Lunch with the cooker of tatrskaya cousin – «Secrets of Tatarskaya Cousin».Free time.Transfer to the railway station.
The tour INCLUDES
1)  Accommodation in 3*** hotel (if an accommodation is unavailable we will provide you with a similar hotel or better one);
2) Meals as mentioned in the program;
3)  Guide escort; 
4) Transfers;
5) Entrance tickets to the sites listed in the program.
Notes
Company reserves the right to change the program without changing the volume of services provided. If you miss or fail to appear, tourist company reserves the right to change the sequence of program execution without changing the volume of services provided. The duration of its individual elements may change before departure and during the execution of the tour. Elements of the program, depending on climate conditions and actions beyond the control of the organizer and organizations (road, the local administration, etc.) may be excluded from the program, based on the actual situations on the route.
Tour program can be adjusted according to the wishes of the group.