Tours catalouge / Popular tours / JOURNEY TO THE SHORE OF DNEIPER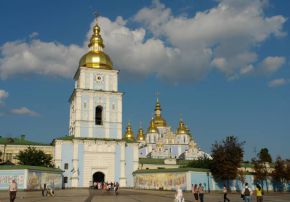 "JOURNEY TO THE SHORE OF DNEIPER"
Ukraine, Kiev
Route: Kiev – Podol – Pechersk – Pirogovo – Kiev.
duration -
3 days / 2 nights
DAY 1
Arrivel to Kiev.
City tour around Kiev.
You will be introdesed to a mysterious, golden-domed city: St. Vladimir's Cathedral, the Opera Hourse, Golden Gate,  monument B.Hmelnicki, Sofia and Mikhailovskaya Square, funicular, Seating Yard, the embankment of the Dniepre, the monument « Motherland», etc.
Transfer to the hotel.
Bus and walking excursion  «Legendes of Ancient Podol». One of the famous suburbs of Kiev. Here is located many different craft villages, many parish churches, the first Acedemy, the sundial which is two hundrends years old, the first farmacy in Kiev, the olders monastery in Kiev which is called Florovsky.
Free time.
DAY 2
Breakfast.
Meeting with the guide in the lobby of the hotel.
Bus and walking excursion «Pearls of Pechersk». Elegant, well-groomed, comfortable, it is the most prestigiouse, aristocratic district of Kiev. Spectacular old mansions amaze your imagination. Mariinsky Palace, the "Chocolate House", the "House of Chimeras,"  the Lutheran quarter. The main administrative building of the country: the Verkhovna Rada of Ukraine, the Cabinet of Ministers, the National Bank of Ukraine.
Excursion to Kiev-Pecherskaya Lavra. It is one of the biggest monastery in the world, in the labyrinth of caves whith relics of over 120 saints.
On the upper area you can visit the museum (additional price): jewelery, decorative arts, typography, art's theater.
Free time.
DAY 3
Breakfast.
Check out .
Meeting with the guide in the lobby of the hotel.
Bus excursion to the Pirogovo country. The museum is an architectural - landscape open-air complex of all the historical and ethnographic regions of Ukraine. Reserve is located in the village on the outskirts of Kiev Pirogovo. The exhibition area of ??150 hectares housed nearly three hundred pieces of architecture (huts, barns and mills, a collection of clothing, wood and pottery, music instruments).
Visit to St. Sofia Cathedral.
Bus and walking excursion «To the Ancient Kiev». Golden Gates, Vladimirskaya street, the monument of Bogdan Hmelnicki, Starokievskaya hill, St. Michae's Cathedral.
Transfer to the airport.
Tour package includes
1) English speaking guide;
2) Meals as mentioned in the program;
3) Accommodation in 3***, 4*** hotels (if an accommodation is unavailable we will provide you with a similar hotel or better one);
4) Transfers;
5) Entrance tickets to the sites listed in the program.
Notes
Company reserves the right to change the program without changing the volume of services provided. If you miss or fail to appear, tourist company reserves the right to change the sequence of program execution without changing the volume of services provided. The duration of its individual elements may change before departure and during the execution of the tour. Elements of the program, depending on climate conditions and actions beyond the control of the organizer and organizations (road, the local administration, etc.) may be excluded from the program, based on the actual situations on the route.
Tour program can be adjusted according to the wishes of the group.