Tours catalouge / GOLDEN RING WITH MOSCOW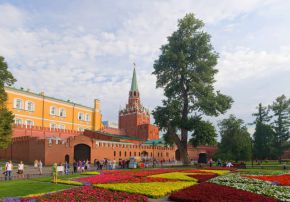 "GOLDEN RING WITH MOSCOW"
Russia, Moscow - Golden Ring
Route: Moscow – Sergiev Posad – Pereslavl-Zalessky – Yaroslavl – Kostroma – Suzdal – Vladimir
Travel in the Russian Golden Ring. Begins and ends in Moscow.
This tour spends all of it's time in the Golden Ring of Russia. It begins with our first meeting in Moscow and sets out from Sergiev Posad, one of the Golden Ring's oldest cities. The "Golden Ring" is the name of a tourist route popular among both Russian and foreign lovers of the old Russian architecture.
duration -
6 days / 5 nights
DAY 1
Meeting at the airport.
Transfer to the hotel.
Lunch.
Moscow standard city tour (Red Square, Alexandrovsky Garden, Sadovoe and Bulvarnoye Rings, Sparrow Hills).
Dinner.
DAY 2
Breakfast
Guided tour to the Kremlin.
Excursion to The Armory Chamber.
Lunch.
Excursion to Kolomenskoe Theme Park (Folklore program – "Russian hospitality").
Dinner.
Back to the hotel (Free time).
DAY 3
Breakfast.
Excursion "Moscow Theaters". Tretiyakovskaya Gallery.
Lunch.
Moscow Underground Tour.
Dinner.
DAY 4
Breakfast.
Transfer to Sergiev Posad.
Excursion to Troice Sergieva Lavra with the entrance to Riznica Museum.
Transfer to Pereslavl-Zalessky.
Lunch.
Excursion to Red Square, the earthworks of the XII century.
Transfer to Yaroslavl.
Check in to the hotel.
Dinner.
DAY 5
Breakfast.
City tour to the Spaso-Preobragensky Monastery and Church of Elijah the Prophet.
Transfer to Kostroma.
Lunch.
Excursion program «Kostroma of 19 century».
Transfer to Suzdal.
Check in to the hotel.
Dinner.
DAY 6
Breakfast.
Tour to the Kremlin and the Museum of Wooden Architecture.
Lunch.
Transfer to Vladimir.
City tour: Golden Gate and the military history exhibition. A diograma representing the capture of Batu in 1238, Cathedral Square, the Cathedral of the Assumption.
Transfer to Moscow airport/railway station.
Tour includes
Accomodation DBL, SGL 3***(if an accommodation is unavailable we will provide you with a similar hotel or better one);
Transfers;
Guide service;
Meals as mentioned in the day to day program;
Museum's tickets.
Notes
Company reserves the right to change the program without changing the volume of services provided. If you miss or fail to appear,  tourist company reserves the right to change the sequence of program execution without changing the volume of services provided. The duration of its individual elements may change before departure and during the execution of the tour. Elements of the program, depending on climate conditions and actions beyond the control of the organizer and organizations (road, the local administration, etc.) may be excluded from the program, based on the actual situations on the route.
Tour program can be adjusted according to the wishes of the group.