Tours catalouge / CLASSICAL MOSCOW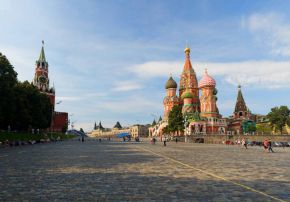 DAY 1
FRIDAY,
MOSCOW
Arrival in Moscow. Meet the local English speaking guide at the airport.
Transfer to the hotel.
Check in.
Optional: visit the famous Moscow Circus.
DAY 2
MOSCOW, SIGHTSEEING TOUR
Breakfast.
Sightseeing tour of Moscow, the capital of Russia with more than eight hundred years of history and the biggest metropolitan area in Europe nowadays. During the tour you will see the major tourist attractions – the Kremlin, Red Square, the Bolshoi Theatre. You will drive along the main streets of Moscow: Tverskaya, Novy Arbat, Sadovoye and Bulvarnoye Rings. Take your time to enjoy panoramic views of the city from the Moscow State University view point on the Sparrow Hills. Optional: St. Basil's Cathedral Optional in the afternoon: You are invited to have a specialty tour of the Moscow metro, which is famous all over the world. Now there are 176 stations and 13 lines, in total there are 292 km of railways. All stations have their unique style and decorations, we will bring you to the most beautiful and interesting ones.
DAY 3
MOSCOW, KREMLIN
Breakfast.
Today you will have a tour to the very heart of Russia – to the Kremlin and its glorious churches. The towers and walls of the Moscow Kremlin were designed and built by Italian architects in XII century for the Russian Prince Yuri Dolgoruky, and centuries after the Moscow Kremlin remains the residence of the Russian Government. Ancient cathedrals, the Armoury Chamber, Russia's oldest museum, and the Diamond Fund with its unique collection of precious stones and jewellery, are located inside  of the Moscow Kremlin. You will have this afternoon to your own pleasure with the personal exploration of the city. Optional: Tretiakov Gallery.
DAY 4
DEPARTURE for MOSCOW
Breakfast.
Transfer to the airport.
The tour package includes
Accommodation: Marriott Tverskaya hotel 4* (DBL|SGL room), 3 nights, breakfast;
Transfers (to – with guide, out – without guide assistance);
Excursions in Moscow: sightseeing tour, Cathedral of Christ the Saviour, Moscow Metro, walking tour of Arbat street, the Kremlin (territory and cathedrals);
Entrance fees to the museums as mentioned in the itinerary;
ESG;
A/C transportation.
Optional activities
The Moscow Circus;
The Moscow metro;
St. Basil's Cathedral;
Tretiakov Gallery;
Kolomenskoe;
Tcaricino Historical Park.
Notes
Classical Moscow Tour starts on Fridays.
Company reserves the right to change the program without changing the volume of services provided. If you miss or fail to appear, tourist company reserves the right to change the sequence of program excursions without changing the volume of services provided. The duration of its individual elements may change before departure and during the execution of the tour. Elements of the program, depending on climate conditions and actions beyond the control of the organizer and organizations (road, the local administration, etc.) may be excluded from the program, based on the actual situation on the route.
Tour program can be adjusted according to the wishes of the group.