Tours catalouge / Kazan-Sviyagsk-Raifa-Kazan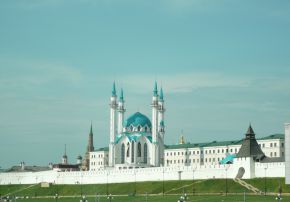 "Kazan-Sviyagsk-Raifa-Kazan"
Russia, Kazan
Route: Kazan – Sviyagsk – Raifa – Kazan
duration -
2 days/ 1 nights
DAY 1
Meeting at the railways station of Kazan city.
Transfer to the hotel. Put luggage to the storage room or check in for additional price.
Breakfast.
Bus excursion to island Sviyagsk  with the entrance to unique temple:
Wooden Troce Cherch  XVI centure.
External view of the Uspenski Monastery.
Joy of All Who Sorrow Church. Nicholas and Sergius Church.
Transfer to Kazan.
Check in to the hotel.
Lunch.
Evening walk to historical center of the city, which goes on Bauman Street "The Street with 4 Centuries History".
The Monument of  Fedor Ivanovich Shalyapin.
Free time.
Dinner at the city caf? (optional).
DAY 2
Breakfast.
City tour "Kazan Millennium".
Lower Town – Old Tatar settlement, Azimovskaya Mosque, Lake Kaban.
Peter and Paule cathedral.
Holly Crosses Church.
Kazan University, the Area of Freedom,  the City Hall, Park "1000 yrs of Kazan".
Excursion to Kazan Kremlin's territory.
Lunch of  national food.  
Bus trip to Raufa's Monastery (architecture monument  ХVII – ХIХ century),
The miraculous icon of Our Lady of Georgia, Trinity Cathedral.
The smallest church in Europe in the name of martyrs Vera, Nadezhda, Lyubov and their mother Sophia.
Unique Lake near the monastery.
Transfer to Kazan.
Dinner (optional).
Transfer to railway station.
Tour includes
1)  Guide escort;
2) Meals as mentioned in the program;
3) Accommodation in 3***, 4*** hotels (if an accommodation is unavailable we will provide you with a similar hotel or better one);
4) Transfers;
5) Entrance tickets to the sites listed in the program.
Notes
The tour starts on Friday.
Company reserves the right to change the program without changing the volume of services provided. If you miss or fail to appear, tourist company reserves the right to change the sequence of program executions without changing the volume of services provided. The duration of its individual elements may be changed before departure and during the execution of the tour. Elements of the program, depending on climatic conditions and actions beyond the control of the organizer and organizations (road, the local administration, etc.) may be excluded from the program, based on the actual situation on the route.
Tour program can be adjusted according to the wishes of the group.