Tours catalouge / New tours / EXCURSIONS IN MOSCOW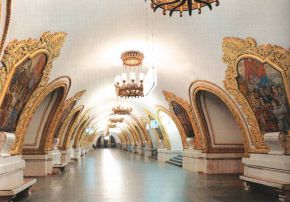 DAY 1
-Meeting at the airport

-Transfer to the hotel

-PANORAMIC CITY TOUR ( 3 HOURS)                                                                             

Moscow - the capital of the Russian Federation-one  of  the   biggest  cities in the world.
During the excursion you can deep into events and history of the city, which is the center of cultural, spiritual, financial and political life of Russia.
You will see the most interesting architectural and historical monuments of the city: Red Square, Christ the Savior Cathedral, St.Basil's Cathedral, Mausoleum, Novodevichiy Monastery.

-Lunch

-Free time

-Overnight at the hotel
DAY 2
-Breakfast at the hotel
-KREMLIN, CATHEDRAL, ARMORY AND DIAMOND FUND ( 5 HOURS)

This tour of the most exciting sights of the Russian capital. In the course of the excursion you will learn many interesting facts about Russian history, get acquaint with the legendary places of Moscow and admire the treasures of the Armory Museum and the Diamond Fund.

-Lunch

-Free time

-Overnight at the hotel
DAY 3
-Breakfast at the hotel
-METRO TOUR WITHOUT TRANSPORT (1.5 HOURS)

Moscow metro impress everybody, who appears there for the first time. It is a unique monument of  "Stalin's empire" architecture and Soviet history.
Moscow metro was built not only as transport; it was made to encourage and prove the superiority of communism by fantastic amazing design.

-Lunch

-Free time

-Transfer to the airport/train station.
Notes
Optional excursions which you can add to your tour:
OLD  ARBAT STREET WITHOUT TRANSPORT (2 HOURS)
Arbat Street - is the walking street in the center of Moscow, one of the oldest, which is known since 14 century. Here are gathered street painters and musicians, many tourists are walking around. You can sit in the cafes, order portrait and buy different souvenirs such as matreshka.
TRETIYAKOV GALLERY (3 HOURS)
We will be pleased to organize a conducted tour of the Tretiyakov Gallery which is the largest museum of Russian art in the world. The museum represents the whole history of Russian art from the ancient period until now. Its superb collection consists of numerous icons, paintings, sculptures and graphics.
KOLOMENSKOE (3 HOURS)
This summer residence of the Tzars is located on the high bank of the Moskva River . The museum houses are a collection of decorative and applied arts and crafts of the 17th century. On the territory of Kolomenskoe there are held folk holidays and performances, which attract many tourists.
TCARICINO HISTORICAL PARK( 2 HOURS)
Surprise and attracts a strange fate, Tsaritsyno is not solved a mystery connected with its construction, the very image of a huge estate,  romantic and somewhat mysterious, like the Museum of unbridled fancies of the 18th century, rich in imagination, fantasies and whims, repeated attempts to finish it, slowly, over two hundred years, the extinction. The fate of time  was merciless to Tsaritsyno. These days there is almost incredible revival of the failed residence of Catherine the Great. And today it is the most popular place throughout Moscow. A stream of people does not stop either it is summer or winter, day or night.
ARKHANGELSKOYE ESTATE MUSEUM ( 3 HOURS)
Construction of the palace in its contemporary form was started by Golitsyn, but then was completed by Prince Yusupov years later. His interests included applied art and furniture produced using semiprecious and precious stones, made by foreign and Russian masters of late 18th - early 19th centuries.  His collection also includes products of glyptic, tea and coffee sets made of silver and porcelain. Porcelain was a subject of a special interest for Yusupov. Some of the most impressive items in his collection are products of the Far Eastern craftsmanship - China and Japan. In Arkhangelskoe you can also find ensembles of porcelain vases and decorated ceremonial interiors.
BOLSHOI THEATER
MOSCOW CIRCUS